Today's reveal is one I've been curious about, since it coincides with the tiny coffin we saw in the cabinet on preview night! Monster High is up early with the teasers this morning, and posted the following photo to their social media sites:
Twitter:
"This LAST #SDCC2014 reveal is one you'll need to see to believe… Draculaura like never before!"
Instagram: "
We won't be able to keep this in the coffin much longer... Draculaura has an all-new lurk! #SDCC2014"
So, what do you think it is? She looks like molded vinyl to me, but her eyes in this shot remind me of Blythe dolls...hmm... This just makes me even more curious to find out, so hopefully they do the full reveal soon! I'd personally love to see small vinyl figures ala My Little Pony, maybe even blind bags? Stay tuned for more info!
Click through to find out more!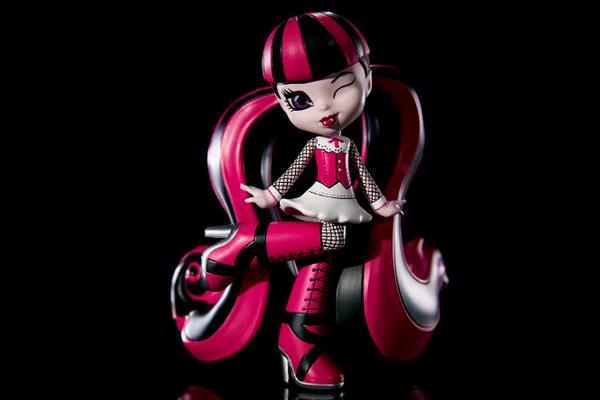 Courtesy of Monster High on Twitter:
INTRODUCING... the new
#

Draculaura
#

VinylFigure
!
#

MonsterHigh
#

Obsessed
#

CollectThemAll
#

SDCC2014
Yes, vinyl figures!! This is incredibly exciting to me, I love collecting little vinyl figures so I can't wait for this!
This photo from MHInsider shows us the packaging, and I'm actually pretty pleased to find out they won't be blind bags/boxes. I want to be able to collect them all! No real word on how many there are going to be, though a semi-reliable source has said we're looking at twenty characters, as well as twelve exchange students. Who knows if that will turn out to be true, but I'm excited to see!
What do you think about today's reveal? Are you a collector of other vinyl toys like Funko POPs, like I am?
Now that SDCC has come to a close, what is your favourite thing the Monster High revealed? Are you disappointed that Ever After High didn't really give us anything new? My favourite thing was definitely Lorna, followed by these vinyl figures! I can't wait to have a little army of Monster High cuties lining my shelves!