After yesterday, I was really hoping that today's reveal would be something AMAZING, and I think it was!

It started this morning with a tease from Monster High on all of their social networks.

"She doesn't mean to be cryptic, but #MonsterHigh's newest student body isn't sure she's ready to reveal herself to the world! Double tap to show her some love and convince her to finally surface from the dark waters! #SDCC2014"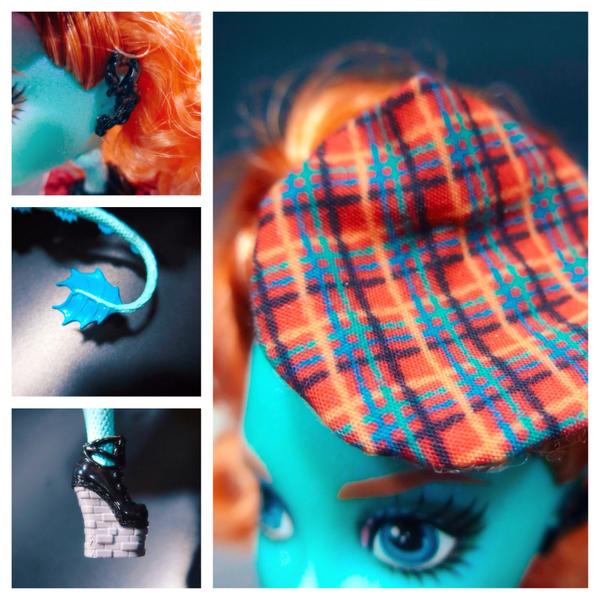 Anyone else know who this is IMMEDIATELY? Click through to find out, and to see more!


Today was the Monster High panel, and they promised to reveal lots of good stuff. Well, I think they definitely kept their promise! Thanks to MHInsider, who was at the panel, we have the following summary:

"2 trailers for Freaky Fusion, and now a trailer for the next movie - "Haunted"
It's a Spectra movie! Looks like it features Frankie, Draculaura, Clawdeen, Twyla, Rochelle and Ghoulia.
The girls will be turned to ghosts and go to a haunted high school.
Becca is presenting Vandala Doubloons - she's a pirate ghost. She's very ocean and ship-wrecked themed.
Garrett presented River Styx. Daughter of the Grim Reaper. She has a candy color scheme and is very sweet.
And next is Monster Exchange - where new characters come to the school and some of MH girls go see other places. Looks like webisodes will introduce all the characters.
Lorna McNessie - daughter of the Lochness Monster. (As seen earlier via Facebook). Natalie is now presenting her doll. She's shorter on the Howleen body but will have a longer neck.
All 3 will be added to the booth after the panel!"
So, the doll we got to see in the teaser is Lorna McNessie! I have been dying to see Lorna since we first saw her trademark, and I was pleased even after the tease. All I wanted was for her to be a redhead and to be wearing a little tam, and I got that!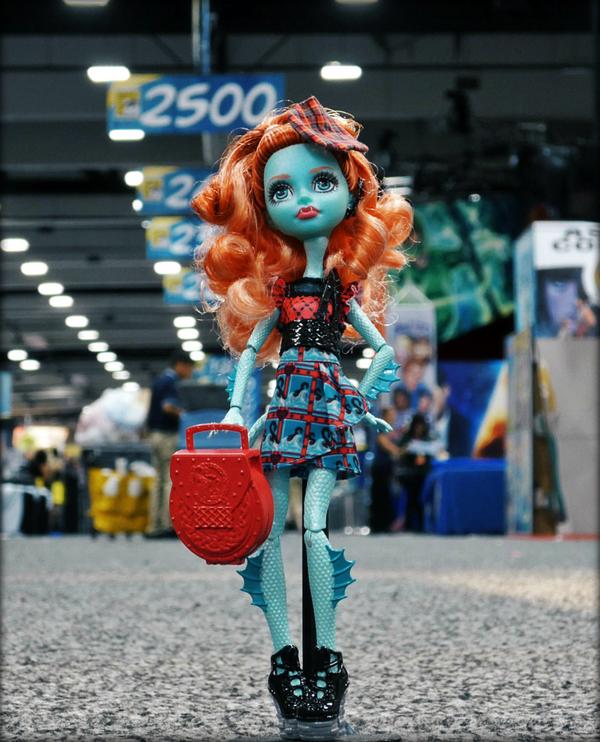 Thanks to Monster High on Twitter for this full body shot of Lorna! I think the long neck is really interesting, but it might take some getting used to. I love how her outfit is based in very traditional Scottish clothing, but with a Monster High twist. Check out that sporran-inspired bag!
We also got shots of the art for Lorna, River Styx and Vandala Dubloons from riggles323 on Instagram, and I think they look pretty great in this form as well!
And check out these shots of the three new ghouls at school in the case, courtesy of mgmve!
Lorna McNessie
Vandala Dubloons
I think she's pretty cool! I love her peg leg for sure, and that big fabulous hat! I also like that her belt/chest piece thing has a big squid on the front there, very Davy Jones in Pirates of the Caribbean!
River Styxx
And River! Very pastel for the daughter of the Grim Reaper...It seems like they often shy away from going really dark, even with characters whose parents are the definition of dark like River here and Twyla. That said, I dig the Lisa Frank neon rainbow dress, and I think her face is pretty cool. This Haunted line looks like it's going to be really well-designed and use a lot of new techniques, so that should be fun! More on that in a bit.
For more photos of these three check out blueeyeslikethesea! She's been posting great photos all weekend, and I know I appreciate it!
And I don't know if these were revealed at SDCC or not, but definitely check out this post by sharks-in-space on Tumblr, for early images of the rest of the Haunted line! There's more new characters AND Haunted versions of some old faves, so it's worth looking at!
I think it looks pretty interesting actually, lots of different looking dolls which I always love!
But wait, there's more! Check out these shots of the new Monster Exchange dolls, again thanks to sharks-in-space! I love Draculaura in Japan and Lagoona in Spain, and check out another new charater, Marisol from Monster Picchu!
There's a lot going on today, and I'd hate for anyone to miss anything, so check over at my Tumblr, Christina Articulates, where I'll be reblogging anything and everything I can find that happened today! And in the meantime, tell me in the comments who you're most looking forward to out of these new dolls! It's definitely Lorna for me, but I am not surprised about that. Isn't it amazing when a doll looks exactly like you imagined she would?