My favourite movie of all time is The Rocky Horror Picture Show, and my favourite character is Magenta. Attending Rocky is an essential part of my Halloween every year, and about 10 years ago, my husband and I even went to a Rocky Horror convention in NYC, and of course, I dressed as Magenta.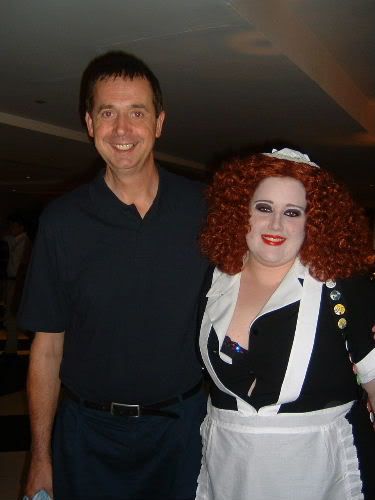 This is me, with one of the actors from the movie, Stephen Calcutt!
Once I decided to turn Spectra into Magenta, it all happened pretty fast! I ordered hair, I bought fabric and paint, and I just went for it. Click through to see how she turned out, and for details on what I did!
Here she is, with a small selection of my Rocky Horror memorabilia!
And a bit closer...
Well secluded, I see all!
This is one of those poses that anyone who's ever dressed as Magenta knows haha...
It's a jump to the left! And then a step to the riiiiiight. Put your hands on your hips, and bring your knees in tiiiiiight!
Let's do the time warp again! Now that we've gotten that out of the way, let's take a closer look at how I turned Spectra into Magenta!
I'm still a bit wary of trying a full face-up (though I do have some Create-a-Monster heads standing by for practice!) so for this, I just painted over some of what was there. Spectra's makeup was actually fairly close to Magenta's anyway, so I just painted over her lips with a nice bright red, and painted her eyebrows to match her new hair. This wasn't too tricky, but it was very nerve-wracking! Conveniently, my husband is an artist, so he has lots of high quality paints, and I just needed to buy a sealant.
I also painted her lower arms and hands, since they were originally clear, and I gave her red nails! I made the outfit from scratch, using a very heavily modified pattern from
DGRequiem
on Etsy. I bought their school uniform pattern and started with the shirt, extending it into a dress, making the sleeves the right length and giving it an open neck and a slit in the front. I also made the apron, basically by just winging it! I'm pretty happy with how it turned out overall. It's not perfect, but with more practice sewing on such a tiny scale, I think it'll get a lot easier!
I also painted a pair of Draculaura's Fearleading shoes black, and painted her lower legs white.
On her legs, she's wearing a pair of black thigh-high stockings that I also got on Etsy, from
zoecmf716
. I didn't even want to try to mess around making these myself, and the ones I got are perfect!
The last thing I made for her was her maid's cap. This was tricky since it is so tiny, but I'm really happy with how it turned out! I tied it onto her head with white string, but I may have to come up with something a little more secure in the future.
Finally, we get to what I actually did first: her hair! I ordered two medium length Barbie hanks from
DollyHair
, in a 50/50 blend of pumpkin spice and volcano. I definitely used way more hair than was probably necessary, but as it was my first time rerooting, I'll know for next time. I love this hair so much! I actually intended to cut it, since Magenta's hair is much shorter in the movie, but I couldn't make myself do it when it turned out this well!
And that's how I made Spectra into Magenta! It's kind of hard to find really good photos of her costume online, but I have a few books that have some decent ones. She obviously had to pose nearby!
You're lucky, he's lucky, I'm lucky, WE'RE ALL LUCKY!
More posing on memorabilia! This is one of my favourite little things I have actually...It has foam toast and a plastic hot dog inside!
I need to make her a Columbia as a friend next, don't I?
So there she is, my first attempt at customizing a doll! I think I did pretty well for a first shot, what do you think?